While local fire departments are closed to the public right now, that doesn't mean that you can't continue to show your community helpers how much you love and appreciate them.
Looking for a way to stay connected with fire department personnel? I've got a couple ideas for you.
#1 – Cards are always greatly appreciated.
Consider writing cards and post them on social media or can be sent via email (administrative emails should be on local websites).
#2 – Sidewalk chalk art is incredibly popular.
Consider making a firefighter/fire house art project via sidewalk chalk. As with the above, take pics and upload on social media or send to fire department administrators. They'll make sure the firefighters on the trucks see your work!
#3 – Firefighter-themed arts & crafts for fun.
Let children explore what it must be like to be a firefighter. Check my Pinterest page for a plethora of firefighter-themed arts and crafts projects that can be done for virtually no money. Then, share them out (as above).
#4 – Firefighter-themed story telling/writing let's the imagination soar.
Let the imagination soar when your child(ren) create their own firefighter tale. Perhaps you record their storytelling, or they act it out, or write it down in poetry or verse. However they express themselves, you can share with firefighters and other community members via social media and such.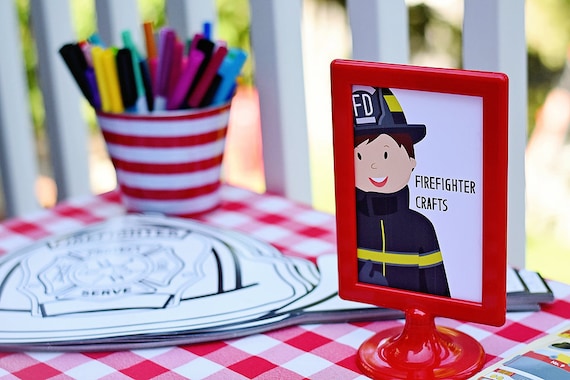 #5 – Seek out a local firefighter pen pal.  
Know anyone that is a firefighter? That knows a firefighter? That's kin to a firefighter? See out a local firefighter to become a writing pen pal or ZOOM friend for several weeks.
#6 – Conduct a firefighter interview and incorporate it into distance learning.
What does it take to be a firefighter? What's their educational level? What skill sets are needed? What's the greatest reward for the job? Create a list of questions and conduct a firefighter "interview" with a local firefighter. Don't know one? No problem! Reach out on social media. I am sure you'll find volunteers.
#7 – Make a List of "Return to Normal" To-Dos.
Now isn't the perfect time to visit the fire station, but this pandemic isn't going to last forever. When social distancing is a thing of the past, what would your child(ren) like to do when visiting a fire station? Sit on the truck? Take a picture with a firefighter? See the lights? Hear the sirens? Create a list of all the things they'd like to see and learn and hold onto it for the future.
#8 – Include Your Local Firefighters (& other community helpers/essential personnel) in Your Prayers/Spiritual Practices.
If you and your family are of a religious nature, I encourage you to pray/recognize your local firefighters and essential personnel during this time. This would mean so much to them — more than you'll ever know!
Do you or your child(ren) have any other ideas for honoring local firefighters during this time? If so, please share your ideas in the comments section below so others can see them, too.
Hope everyone has a very happy Wednesday and a fun April Fool's Day!