Looking for something fun and educational to do over the next several weeks? If so, have I got great resources for you.
The National Fire Protection Association (NFPA, for short) offers quality fire safety lesson plans, coloring pages, worksheets, and even online videos, stories, and games. These activities have correct messaging about fire safety and escape planning so there is no need to worry about content. Correct messaging offers you peace of mind that the NFPA provides the most up-to-date safety messaging available.
Take some time this week, try a few resources out, and let me know what your favorites are. I am a sucker for their short video clips. The "Every Second Counts in a Home Fire," which is actually aimed at the adult audience, is my current favorite!
Sparky's webpage features videos, games, apps, Sparky activities & crafts, coloring sheets, and fire truck information, e-cards, etc.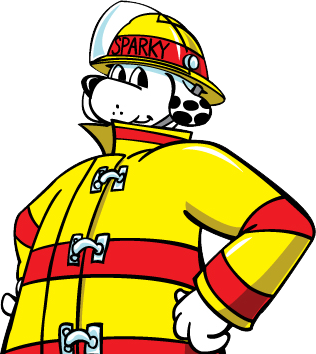 May I suggest Sparky's Smoke Alarm Math Sheets (2 ability levels), "The Story of Sparky the Fire Dog," and the video "Lessons Learned from the Great Chicago Fire."
Note: there is also a Parent portal and an Educator portal
NFPA Public Education webpage features safety tip sheets, mini-lesson plans (approximately 10 minute lessons), LEARN NOT TO BURN preschool fire safety curriculum, etc.
Note: there is plenty information there on how to make a home fire escape plan –

Take this time at home and make sure you have working smoke alarms in each bedroom/sleeping area, outside of each sleeping area, and on each level of the home.
Talk together as a family and come up with the best possible outdoor meeting place. This should be a spot away from the home where firefighters can see you and make contact with you. Ideally, a tree in the front yard, a mailbox if you don't live on a crowded street, or perhaps the neighbor's front porch.

Most important thing about a meeting place is that it is a permanent spot that everyone knows about.

Got smoke alarms? Got a meeting place? Now, make a plan! Discuss as a family what your best exits are going to be. Now consider the fact that those may be blocked by smoke or fire. Exits could be doors, but they may also be windows.

Do your windows open with ease?
Do you need to consider a fire escape ladder?
Is there an infant or someone in the house who will need assistance? If so, whose job will this be?

Grab your pencils, pens, etc. and draw it out.

Create a visual of your home escape plan
Post this visual in an area that all can see.

Now that you've done all this, put your plan to practice. Set off an alarm or imitate the sound of the alarm and see how your family reacts.

How long did it take everyone to get to the meeting place?

Ideally, this should take 2-2.5 minutes!!

Was everyone calm?
TERRIFIC! You now know what to do in case of fire or smoke! 
I can't wait to hear from you and hear how you've used these terrific NFPA resources. Feel free to share pictures or videos with me at mjbostian@gmail.com and let me know if I have your permission to post using your child's initials in the post.
Happy Sunday! Stay safe, practice social distancing, wash hands, and be kind!